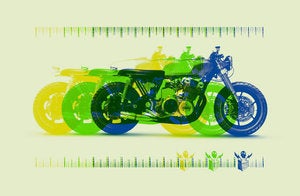 $52.00
This design was a labor of love for artist Adam Stockton, seeing as it's his custom bike on the 40" x 26" sheet. The gnarly little XS750 has been featured on bunches of websites around the motosphere and now it's immortalized on a limited edition hand-pulled screen print.
The '78 Yamaha features a requisite Classified Moto front end swap from a 2005 Kawasaki ZX6R, hence the Yamasaki moniker. The poster of the same name features the masterful photostry of our talented friend Adam Ewing.
Only 50 of this design will exist — ever — unless the counterfeiters get ahold of it. So stuff one in your cart directly. It's signed, numbered, printed on heavy fancy paper and ready to muscle its way onto your wall.